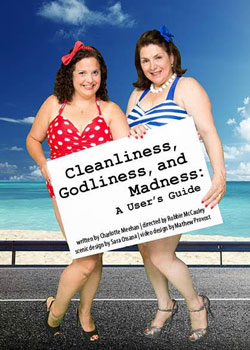 Plaza Black Box Theatre
Boston Center for the Arts
539 Tremont Street, Boston
September 15-24, 2016
In a media saturated, Expressionistic setting, the premiere of Cleanliness, Godliness, and Madness: A User's Guide, timed for the 2016 election cycle, offered a tragi-comic view into the absurdity of far right Christian fundamentalism. Via Tea Party values and the hypocrisy just beneath them, the production revealed white supremacy at its most brutal. Directed by Robbie McCauley (who also played God), and performed by Stephanie Burlington Daniels and Veronica Anastasio Wiseman, the play should have been obsolete the day after the election, but instead the nightmare it portrays has come true.
Veronica Anastasio Wiseman and Stephanie Burlington Daniels tore up the stage as volcanic lovers until politics turned them to bitter rivals.
Preview
Charlotte Meehan in interview with Kilian Melloy, Edge Media Network
Reviews
"In such an ugly time, Meehan seems to say, let's luxuriate in that ugliness to better understand it. . . So this play's depiction of a suffocatingly regressive America is an earnest cri de coeur, not merely a cynical gallery of straw men."
~Jeremy D. Goodwin, WBUR's The ARTery
"Daniels and Wiseman give triumphant performances that stir the political bowels of what it means to be a decent human being. Meehan's writing is satirical to the point of offense; she is not kind to religious Right. Daniels and Wiseman take what is inferred by Meehan's writing and, while they don't create likable characters, they endow them with enough humanity to question Meehan's objectives. . . That we consider liking them at all is a testament to Daniels' and Wiseman's performances."
~ Kitty Drexel, New England Theatre Geek
". . . While the show is heavily satirical and comedic, many of the counter-balancing explosive moments discuss and explore serious issues ( i.e. domestic abuse, racial targeting, public shootings, etc.). The plot calls into center stage the question of Christian, conservative, and liberal values on these issues. . ."
~Nisreen Galloway, Boston Events Insider
https://sleepingweazel.com/wp-content/uploads/2018/12/Sleeping-Weazel.jpg
0
0
swadmin
https://sleepingweazel.com/wp-content/uploads/2018/12/Sleeping-Weazel.jpg
swadmin
2017-01-19 19:01:26
2019-06-24 14:36:46
Cleanliness, Godliness, and Madness: A User's Guide