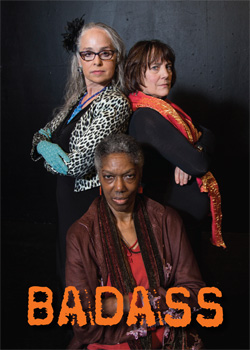 Boston Playwrights' Theatre
949 Commonwealth Avenue, Boston
March 5 – 14, 2015
The Badass festival brought together performance artist-playwrights Robbie McCauley and Magdalena Gómez with actor-playwright Kate Snodgrass for an exhilarating cross-disciplinary evening of performance and theatre. Critics raved about the whole evening, and Robbie McCauley's Jazz 'n Class was later nominated for an Elliot Norton award for Best Solo Performance.
Shameless Woman, in her inimitable Nuyorican performance style that pulses with outrage, love, vulnerability, and anguished longing for a just world.
Magdalena Gómez read excerpts from her book,
Jazz 'n Class, pierces the heart and enlarges the soul through an exploration of race, class, and her relationship with classical composer daughter Jessie Montgomery.
Robbie McCauley's performance meditation,
The Tempest (or Bark's Dream), references Shakespeare and Jacques Derrida to question truth, identity, and the sublime. Directed by Melia Bensussen and performed with Steven Barkhimer and Snodgrass, this play turns from the ridiculous to the tragic on a dime.
Kate Snodgrass's absurdist play,
Reviews
"Once again, Sleeping Weazel presents some of the most unexpected and entertaining evenings of theater in town."
~ Terry Byrne, The Boston Globe
"While all [three works] focus on female experience and point of view, the three pieces of original work are distinct and not meant to connect to one another, despite all being somewhat existential and certainly pushing the envelope beyond what is mainstream."
~ Claudia A. Fox Tree, Boston Events Insider
Poster design: Jessica Kuszaj
Photos: David Marshall
https://sleepingweazel.com/wp-content/uploads/2018/12/Sleeping-Weazel.jpg
0
0
swadmin
https://sleepingweazel.com/wp-content/uploads/2018/12/Sleeping-Weazel.jpg
swadmin
2015-09-17 13:29:26
2018-08-04 14:40:07
Badass