African American History and Its Expressions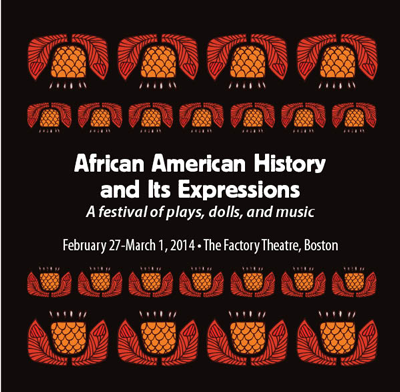 A live-arts festival opening with a presentation of black dolls in American history. Through Debra Britt's storytelling, we learned that early 20th century Black Nationalist Marcus Garvey owned a doll factory and was known to say, "Mothers! Give your children dolls that look like them to play with and cuddle."
Obie-winning playwright Ed Bullins' neo-expressionistic play, The Man Who Dug Fish, presented racism in a variety of business contexts where the white establishment is designed to rip off or exclude the black customer. The play ends in a brilliantly hilarious revenge twist that harms no one but results in a long lasting stench at the bank.
Harlem Renaissance writer Marita Bonner's 1927 play, The Purple Flower, an allegory of slavery, finally received its world premiere 87 years after it was written. Playwright Keli Garrett and director Dominic Taylor collaborated with Annie Katsura Rollins who designed 33 shadow puppets specially for this production.
Professors Shawn Christian (Wheaton College, Department of English), Monica White Ndounou (Tufts University, Department of Drama and Dance), and Robbie McCauley (Professor Emerita, Emerson College, Department of Performing Arts) led post-show cultural conversations with the audience after each performance.
Review
"At its best, theater creates a sense of connection. Sometimes the connection is confined to the stories of characters portrayed onstage, and sometimes, as in Sleeping Weazel's 'African American History and Its Expressions,' it reaches beyond the borders of the Factory Theatre to an awareness and appreciation of a larger community."
~ Terry Byrne, The Boston Globe
Read more.
Poster design: Jessica Kuszaj
Production photos: James Correia
Robbie McCauley photo: Paul Marotta